View List of Completed Jobs in Philadelphia (click here)
If you live in Philadelphia, you may have noticed some charming metal stars adorning the homes of some of your neighbors. While these stars do add a bit of flair to the exterior of a home, they actually have a specific function as well. Many homes in Philadelphia experience bulging or bowing in their brick walls. Star bolts offer a simple and economical solution to this problem, instead of going the more expensive route of rebuilding the entire wall.
If you're the owner of a Philadelphia rowhome experiencing bulging or bowing in your brick walls, a simple Philadelphia star bolt installation may be all you need to restore your home. The process is fairly basic:
Gridwork – To remedy your bulging rowhome, your Philadelphia star bolt installer will first create a gridwork of 2×8 planks, which is backed up by 4×4 posts, cables, and anchors. When combined, these elements can reduce a 3 inch bulge to less than one inch. Your contractor will also remove old lime mortar from between the inner and outer layers of brick.
Plate installation – Next, the 10" exterior star plate will be installed on top of ¾" threaded rods, which are then anchored inside the home. The rods are held in place by washers, nuts, and solid bridging. This will help to hold your exterior bricks in place and prevent future movement of other bricks.
A variety of shapes – Your exterior plate can be any one of a number of shapes, not just stars. You can choose between round, oval, square, or diamond-shaped bolts as well. Your plate should be at least ¼" and large enough to secure 6 to 8 bricks.
If you've noticed a weakening in the brick walls of your Philadelphia row home, don't fret about expensive repairs. While a full replacement of your brick walls would put a hefty dent in your checking account, the simple installation of a Philadelphia star bolt can address the problem while saving you thousands.
Call Richard S. Pandolfi For Philadelphia Star Bolt Installation!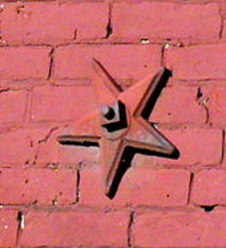 If you'd like to address bulging or bowing in your row home in an economical way, don't hesitate to contact Richard S. Pandolfi. Our team of experts is well versed in a wide range of home improvement projects, and can help alleviate your structural damage without the excessive costs of full wall replacement. Contact us today to set up a consultation. We look forward to hearing from you!